The Orange Peel Information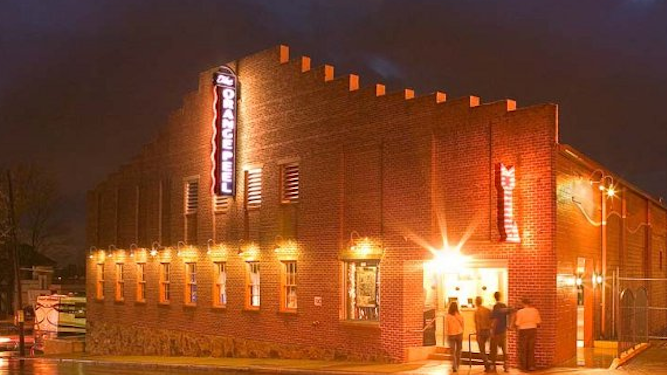 The Orange Peel opened in 2002 and made a splash early in its life. Not only has The Orange Peel become the host venue for the annual Moogfest electronic music festival, but it has also played host to a variety of well-known acts, including 311, Modest Mouse, Black Label Society, Bob Dylan, Smashing Pumpkins, The Beastie Boys, Megadeath, Gwar, and more. The venue's popularity over the years has earned it honors as one of the top five music venues in America by Rolling Stones magazine, which prompted the venue to open PULP, a downstairs members-only liquor bar that opens every show night offering guests an exclusive experience watching the show through a live feed to enjoy a concert experience in peace. PULP even hosts its members during other event nights including appearances by local artists and the "Slice of Life" open-mic comedy nights. The venue has a huge list of loyal fans who show up to most of their incredible event nights, which made the venue order what they call "The Big Ass Fan Club", a membership program that offers priority entry, complimentary PULP membership, and more.
The Orange Peel is growing day by day and it doesn't look like it will ever stop.
The music venue has become such a huge part of life in Asheville, North Carolina that it has also become a venue rental for personal events and special occasions. Its beautiful space has been used for work events, weddings, receptions, and non-profit benefits or fundraisers. It's also unique in offering a no restrictions catering service, where guests can bring their food or leave the catering to the venue at no extra cost, fee, or penalty. The owners went out of their way to create a music venue that was #1 in entertainment and as much a part of historic Downtown Asheville as any of the oldest historic buildings, and that's impressive for a venue that's not even twenty years old.
Incredible shows, hilarious open-mic comedy, and the best in local and nationally recognized musical hits. The Orange Peel is your entertainment destination in Asheville.
See the links below for further information on the The Orange Peel:
The Orange Peel Parking:
Latest parking information and rules at the The Orange Peel.
Ticket Policies:
Latest ticket guarantee and authenticity policies.
The Orange Peel Seating Chart:
The Orange Peel seating chart and related seating information.